QUILT OF THE MONTH
December 2002
Jacquie & Chris's Wedding Quilt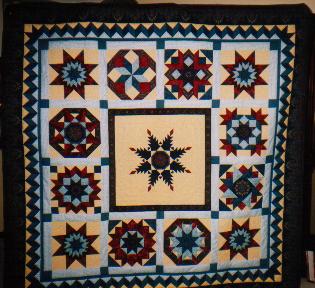 This quilt was made by Kerry Wettenhall and the quilting done by Sheila Pye.
Made in 2002, this quilt took nine (9) months to complete. The pattern was the "All Star Sampler" by Roxanne Carter.
The colors (blue and burgundy) were chosen because Jacquie and Chris wanted a non-floral design with Blue and Burgundy.