ALISON SCHWABE BA Dip Ed.
Embroidered and quilted textiles.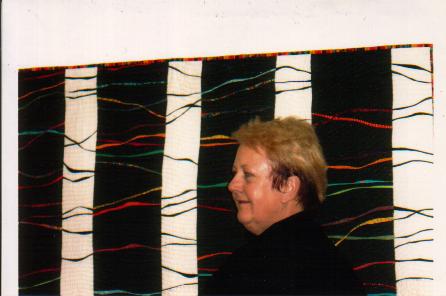 A trained teacher, Alison has taught in Australia, USA, UK, France and NZ. Her students learn techniques and processes to enrich traditional and published patterns, or designs and produce non-traditional quilts. She has published several magazine articles and has served on the valuation and the Stitched and Bound exhibition committees.
WORKSHOPS AVAILABLE
IRREGULAR SHAPES
External and internal shapes. Students commence and may complete a non-rectangular wall quilt on a chosen theme, eg. a fish, house, butterfly, etc. Two (2) days:-all levels, good basic sewing machine skills essential.
COLOUR SCHEMES FOR THEORY CHALLENGED QUILTERS
An eye-opening one-day class guaranteed to give confidence in arranging satisfying colour schemes for students' own individual projects. No sewing. One (1) day:-all levels-great fun!
HOT QUILTS FROM COLD SCRAPS
From your scrap bag, apply principles of design and colour to making truly scrap quilts. Machine sewing, but you choose how you work in this workshop: using either one traditional piecing construction method or the freehand rotary cut piecing (basic instructions on www.alisonschwabe.com) From 1-4 days:-all levels.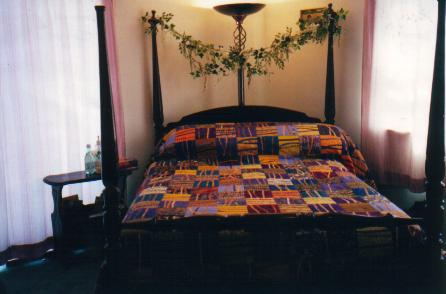 King size scrap quilt for a modern young couple.
MINIATURE LANDSCAPES
Tiny scraps of beloved fabric almost too small for anything much....using these to construct small landscape units for clothing and accessories; enhance with embroidery or embellishments; mount and frame in various ways. 1 or 2 days:- all levels, hand or machine piecing.
FREEHAND ROTARY CUT TECHNIQUES
The not-quite-straight-line construction used by many contemporary quilters is now almost a contemporary tradition and popular with many traditional makers seeking a more modern look. Students will commence and may complete a wall quilt or table runner. 1 or 2 days:-all levels, machine piecing.
Complete workshop descriptions of any of the above will be emailed/faxed on request. Given sufficient notice a workshop can be tailored or designed for the needs of a particular group.
Slide lectures available-list supplied on request.
CONTACT DETAILS
Alison Schwabe 3 Doric Street, SHELLEY, WA 6148
Email: alison@alisonschwabe.com
Phone +61 8 9354 8148
Fax +61 8 9457 7011
Return to Teacher Profiles page