DI MANSFIELD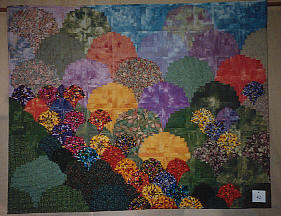 "Summer Garden II"
Teacher Profile
A trip to America in 1983 when Di saw her first quilt began a journey of a different kind. On her return to Australia she took lessons from Lois McCarthy and has been quilting and teaching ever since. A Past President of WAQA, and WA contributor to "Down Under Quilts" for many years, Di has shared her love of patchwork and quilting with others around Australia.
Workshop Outlines
1. Off-Centre Log Cabin ("Summer Garden I"): 2 Day Workshop. Suitable for Beginners: Wall Hanging 92cms x 138cms.
This workshop was designed to make effective use of hand-dyed fabrics and to combine them with prints from previous projects and results in a scrap quilt with a difference. Fabrics as small as 7cm strips the width of the fabric are useful and the most you would need of any fabric is 12cm, although fabrics can be repeated if desired. Students will be encouraged to follow their own layouts and will be pleased with the completed quilt tops which result from this workshop. If desired, larger quilts can be undertaken.
2. Off-Centre Log Cabin, Advanced ("Summer Garden II"): 2 Day Workshop. Intermediate Level: Wall Hanging 152cms x 122cms.
Following the principles of the 1st workshop, more advanced students are encouraged to design with half-sized blocks interspersed with full-sized, and to create their own arrangements. These quilts are suitable for wall hangings, or bed quilts, and lend themselves to embellishment.
3. Reversible Quilt-As-You-Go ("Mother's Day Quilt"): 2 Day Workshop. Beginners to Intermediate: Lap Quilt 90cms x 90cms.
Have fun creating a reversible quilt-as-you-go scrap quilt with an interesting pattern on both sides. Side one is a strip-pieced colourwash and side two is reminiscent of a traditional Sunshine and Shadows pattern. If you are a bit rusty on machine quilting this method allows you to practice on very small samples while you improve your ability and brush up on your technique.
4. Simple Bargello and Fractured Bargello: 2 Day Workshop. Beginners to Intermediate: Wall Hangings 165cms x 115cms (including borders).
Students will be shown how to design their own Bargello quilts and may then choose whether to construct their own designs or follow the class samples. The Simple Bargello workshop produces an attractive wall hanging which, if doubles in size as a mirror image will give a queen size quilt.
The Fractured Bargello can be undertaken by students with intermediate abilities in the same workshop and will produce a more complex and interesting design - again of a size which suits the student. The "broken" or "fractured" effect can be achieved either with simple strips of fabric or with pleated tucks - the choice is left up to the students with the emphasis on original design.
In each workshop, the amount achieved at the end of the two days will be determined by the complexity and size of the design chosen, however, many students will complete their tops and some will be on their way to quilting.
5. Miniature Log Cabin Foundation Piecing: 1 or 2 Day Workshop. Preferably Intermediate Level: Completed size - from 22cms x 22cms to 30cms x 30cms, depending on the pattern chosen.
Working in miniature is fun and with foundation piecing, an extremely accurate way to go. In this workshop, log cabin blocks measure 4.5cms square. As with any log cabin design, how you put them together is a limitless exercise and the choice is left to the student. Simple suggestions are Stars, Christmas Trees or Hearts and your blocks can be Traditional, Court House Steps, Chevron or a combination of all three. The choice remains with the student and the emphasis is on individual quilts. The results are always delightful but be warned - the size is deceptive in terms of the time it takes to complete the project.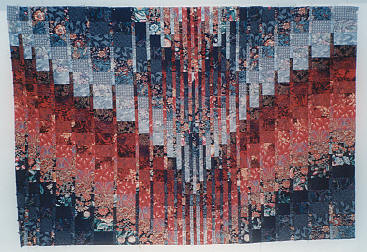 "Fractured Bargello"