Faye Cunningham

| | |
| --- | --- |
| | My philosophy for patchwork and quilting |
Since discovering patchwork in 1979 my world has been enriched. My preference is to make traditional quilts and then to add something innovative. I like to challenge myself and see how much the blocks can change but still represent a traditional theme. I also like to combine applique with piecing as technique complements, highlights and balances the other. I enjoy seeing what students can achieve with blocks but accenting on colour, shape and quilting away from the 'norm'. To be able to creatively express ideas is a wonderful experience.
It is because of the rich rewards of friendship and sense of achievement that I have turned to teaching patchwork. If I can encourage a patchwork student to discover the joys of patchwork then I have not only introduced and enriched someone to the art of quilting - and maybe realise some hidden creativity - but have the pleasure of seeing another individual enjoy the satisfaction and friendship that patchwork can bring. I encourage students to follow their own initiative, discover that they are an individual person, to stretch their imagination and inspire confidence to fulfil their talents.
| | |
| --- | --- |
| | Offices held at Western Australian Quilters' Association: |
Secretary (1981 - 1983).
Vice President (1983 - 1985).
President (1985 - 1987).
Editor Quilters' Quarterly (1985).
Member of the W.A.Q.A. Teacher Accreditation committee (1996 - present).
Convenor of the W.A.Q.A. Valuation committee (1997 - present).
| | |
| --- | --- |
| | Other Quilting duties for West Australian Quilters' Association: |
Co-ordinated quilt exchange between Japan and Western Australia to coincide with W.A.Q.A. Exhibition (1988).
Co-ordinated Pauline Rogers, Queensland tutor, to teach patchwork for W.A.Q.A. members (1994).
Attended Australian Council of Quilters as a delegate (1994, 1996).
Artistic Director for W.A.Q.A 8th Biennial Exhibition "A Quilt Fantasy" (1994).
Accredited Valuer (1993 to present). Accredited Teacher (1995).
| | |
| --- | --- |
| | Quilting Activities in Australia and overseas: |
1991: Invited guest Exhibitor at the Lesmurdie Art and Craft Annual Exhibition, W.A.
1992,91,90: Co-ordinated and presented Fashion Parades at the Australian Quilters Conference, Armadale, Geelong and Canberra.
1990: Visited West Coast Quilters Conference, Sacramento, California, U.S.A. Classes undertaken include: Joan Schulze, California, U.S.A.; Sonya Lee Barrington, California, U.S.A.; Caryl Bryer Fallert, Illinois, U.S.A.; Susan Denton, London, U.K.; Barbara Macey, Melbourne; Pauline Durbridge, London, U.K.; and others.
| | |
| --- | --- |
| | Quilts exhibited at: |
1997 - "Impact" Dorothy Liley Art Gallery and Craft Centre, Rockingham, W.A.
1996 - Australian Quilt and Craft Festival, Melbourne, Victoria.
1996, 1994, 1992, 1990, 1988, 1986, 1984 - W.A.Q.A. Biennial Exhibition.
1995 - Country Fabrics and Quilters Store, Toowoomba, Queensland.
1992, 1991, 1990, 1989, 1988 - Australasian Quilters Symposium Exhibitions.
1990 - Kagoshima Quilters Exhibition, Tokyo.
1989 - Silver Dollar Quilt Exhibition, Missouri, U.S.A.
1989 - W.A. Craft Council Monochromatic Miniature Quilt Exhibition, Perth (partner Melodie Slatter). 1985 - Adelaide - South Australian Quilters Association. 1983 - York Festival, York, Western Australia.
| | |
| --- | --- |
| | Class Descriptions: |
AN ADVENTURE WITH THE NINE PATCH - l day - all levels. This is a new way to develop an original design from using variations of many nine patch blocks . You will be amazed to find out just how creative you are just be using two different fabrics. Contemporary, hearts, and baskets patterns will emerge during the designing process. Machine pieced.
A FEATHERED STAR IN ONE DAY - intermediate to advanced. A workshop for foundation piecing enthusiasts achieving accurate points. You will be able to complete a 16.25" feathered star as you come to the class with fabric precut. Machine pieced.
NEW YORK BEAUTY AND CROWN OF THORN BLOCK - 1 day - all levels. Create these lovely blocks on your way to designing something special. During the class you will also learn how to sew curves. At the end of the day you will see how these two blocks can be put together and include some interesting curved blocks to make a beautiful quilt. Machine pieced.
FASTRAK TO DELECTABLE MOUNTAINS - 1 day - all levels. This is a quick piecing method where you can design your own quilt using a traditional block. This block lends itself to many variations. Be adventurous! Machine pieced. You can complete a project by the end of the day. Later you can add some applique of your choice.
CREATE A PICTURE WITH KALEIDOSCOPE BLOCKS - 2 days - all levels. On day one we will play with coloured pencils and see what shapes, animals and objects can emerge. On day two the quilt will start to go together using the foundation pieced method. Every quilt is unique. A design class.
Other classes include: ONE OF A KIND based on a book by Judy Hopkins - 2 day - permission granted to teach by publisher, and TAKE THE MYSTIQUE OUT OF QUILT DESIGN - 1 day.
Faye teaches all classes from her home.
| | |
| --- | --- |
| | Classes taught at: |
1997 - Classes taught in Rockingham, Bunbury, Kununurra, Esperance, Kalgoorlie, Harvey.
1997 - Winter Whirl Symposium - coordinated by WA Quilters' Association.
1997 - Scarlet Ribbons, Perth.
1996 - Thread Bearz - Fremantle.
1996 - Folk Art Association, Northam.
1995 - Dyfed Sewing Circle, Wales, U.K.
1997, 1996, 1995 - Carol's Fabrics, Perth.
1996, 1995 - Patchworks of W.A., North Perth.
1995 - Country Fabrics and Quilters Store, Toowoomba, Qld.
1995 - Sew 'n' Sews Group, Karrinyup, W.A.
1994 - Southern Country Quilters Retreat, Karri Valley, W.A.
1993 - Geraldton Quilters Group and Harvey Quilters Group, W.A.
1996, 1995, 1993, 1992, 1991 - W.A. Quilters Association.
1984 - T.A.F.E. Applecross.
1983 - Y.W.C.A. Perth.
| | |
| --- | --- |
| | Quilts featured in the following books and magazines: |
Australian Patchwork and Quilting Magazine, Foundation Piecing, 1997.
Australian Patchwork and Quilting Magazine, "Scrap Quilts", 1997.
"Between Friends", by Karen Fail, 1996.
"Down Under Quilts", Winter 1996.
"Down Under Quilts", September, 1991.
Fibre Forum, Volume 6, Issue 2, 1987.
U.K. Quilters Guild Newsletter, No 31, Summer, 1987.
Photographs of workshop quilts are available on request.
For further information please email Faye.
Information supplied by Faye in October 1997.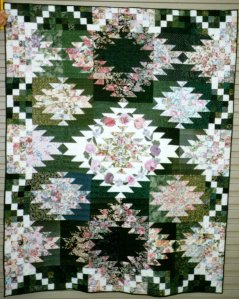 Above: Faye Cunningham "Floral Delight".
Return to Teacher Profiles page